SPC Recaps
The Southwest Preparatory Conference fall athletic tournaments took place this weekend in Ft. Worth. The Fourcast has compiled recaps of all the action.
Field Hockey takes 3rd in Southwest Preparatory Conference Tournament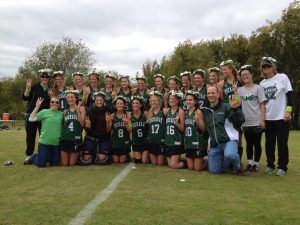 North Zone Seed 2 Field Hockey beat Bellaire's South Zone Seed 3 Episcopal High School in the first round of SPC Friday, Nov. 8 with a score of 1-0 off of a second half goal by senior Augusta Aston. The goal was assisted by senior Meredith Mihalopoulos. That afternoon, they faced North Zone Seed 4 Ft. Worth Country Day, a team that Hockaday had beaten in the regular season but had also just upset South Zone Seed 1 St. John's School in the first round. Both teams remained scoreless through two overtime periods. The game then went to strokes where FWCD scored two to Hockaday's one, sending Hockaday to the third place game and FWCD to the championship. On Saturday, the girls faced Trinity Valley, a team they beat in strokes earlier in the season. Going into double overtime and strokes again, Hockaday won off scores from seniors Cate and Gretchen O'Brien and Evie Peña. Though the team's 11 seniors were disappointed not to have reached the championship game, the girls, donning daisy crowns, were proud to have finished their season on a win.
Watch as senior Cate O'Brien scores the winning goal for Hockaday Varsity Field Hockey.
Volleyball Takes 5th in Division II
Volleyball lost their first match in SPC's Division II against a Houston's St. John's School Friday, Nov. 8. However, on Saturday morning, the team conquered San Antonio's Saint Mary's Hall to move on to the consolation bracket championship. In their last game, Hockaday faced an Episcopal School of Dallas squad that had just beaten them in the last counter of the season. In the SPC match, the girls won the first two games 25-15 but then allowed ESD to respond in the next two games, sending the match into the 5th game, a tiebreaker of sorts. Near the end of that game, junior Mackenzie Capetillo hit the ball at an ESD player, sending the ball into her so hard that she fell down! In the end, the girls pulled together for an exciting win, ending the season with a strong team effort.
Cross Country Places 6th at SPC Tournament Meet
Cross country raced Saturday, Nov. 9 at 10 a.m. The team captured overall 6th place out of 19 teams. Tala Vaughan placed in 13th out of 132 runners. She was the only Hockaday athlete in the top 20, but each runner on the team had a personal best time.
– Emily Wechsler
Video provided by Kaylee Charlton