Grit and Grace: Dance Review and Photo Slideshow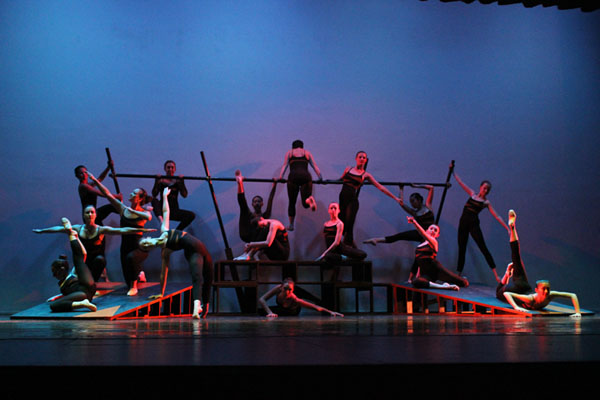 Nov. 19 and 20 Fall Dance Performances combined new and old routines
[nggallery id=70]
Only an assembly like the annual Fall Dance Performance can elicit shouts and cheers from a hungry group of Upper School faculty and students. The 11:45 a.m. assembly on Nov. 19 featured a performance by all levels of Hockaday Dance. From classical ballet to lyrical modern to sassy hip-hop, the performance excited the audience at every turn. In the evening on Nov. 20, the dancers added more repertoire to their set as they performed for parents and other members of the Hockaday community.
The theme for the performances was "Looking Back and Moving Forward," a nod to the history of Hockaday throughout its 100 years. The pieces included old and new choreography, including a classical ballet piece that dance teacher Christie Sullivan '95 choreographed as a senior at Hockaday. Alex Nowlin '10 also choreographed a hip-hop dance called "Wild," which was performed by Dance Lab.
The choreography, as always, was excellent, and the dancers at all levels executed their steps with precision. The classical ballet piece entitled "Con Amore," with music by J.S. Bach was an enchanting way to begin the performance. Although the dancers only performed the final section of the ballet at the midday assembly, the three-part ballet was even more impressive in the evening when it was performed in its entirety.
The next piece, "Rodeo," gave us a taste of Texas, the girls dressed in full hoe-down regalia, dancing to the infectious melodies of Aaron Copland. Chair of the Dance Department Beth Wortley had initially created the dance for a "Welcome to Texas" video. At the evening performance, they played excerpts of the video, filmed at Fair Park, while the dancers performed the piece.
By far, the standout performance was "Wild," Nowlin's gritty hip-hop dance. Looking fierce in cheetah-print harem pants and sparkly combat boots, the dancers stomped in-sync to the music of Jessie J. Judging by the audience's enthusiastic response, the dance was a crowd favorite.
Although the Hockaday Dance Department has consistently performed well in the past, this centennial year performance portends a  bright future for the next generation of Hockaday dancers.
– Mary Clare Beytagh
Photos by Mary Clare Beytagh