Members of the Hockaday Fencing Team describe what it means to be a fencer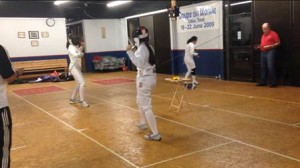 Although not many people can say that they have single-handedly battled a person with a sword, this is normal to members of the Hockaday Fencing Team. From 4:30 to 6 p.m. Monday through Friday the girls practice at St. Mark's to sharpen their foot skills, work on conditioning and practice their sport.
In the sport of fencing there are three types of swords: foil, epee and saber. Marisa Salatino, senior and co-captain of the team, competes using epee – the heaviest of the three. According to Salatino, fencing takes not only a lot of arm strength in order to hold up the sword, but also requires quad strength in order to maintain power while lunging.
Although physical power is important, mental power is just as vital. Salatino added that "there is strategy involved and you can't let each point affect you."
Cher Qin, a freshman on the team referred to the sport as "a physical chess".
Qin joined the Hockaday team after fencing in Middle School in China. She said that if you are not in a good mood you won't fence well. Due to her previous coaching in China, Cher had already developed good footwork which she says helped her make the varsity team freshman year.
Previous experience can be helpful, but for people like senior and co-captain Channing Tucker, interest alone was enough incentive to join the team.
Tucker first saw the sport when was applying for Hockaday in Lower School and finally got to it in Upper School. She tried it out freshman year and has stuck with it ever since. When Tucker started fencing she realized how difficult it was: "Normally I'm really competitive in my sports and it kind of led to a perfectionism which isn't always the best mindset to have when you are new to a sport, so I told myself when I first started fencing that I would go in with a learning mentality. That definitely helped me a lot."
Tucker added that the time put into the sport was well worth it. According to Tucker, the sport requires a great deal of dedication and commitment – which all three girls concluded they had.
– Manisha Ratakonda