A True Temptation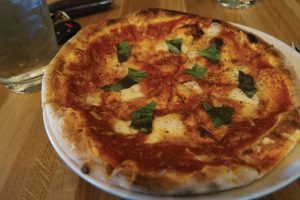 True Food Kitchen
8383 Preston Center, Plaza Drive
3.5/4 stars
WORTH THE WAIT
True Food Kitchen takes delicious to a whole new level with savory margarita pizza, burgers, sandwiches and more, all  organic.
True Food Kitchen serves a large variety of dishes—from veggie crudités to buffalo burgers. The building boasts a beautiful, airy, eco-friendly environment. As part of their commitment to being environmentally-friendly, almost everything is earth empathetic, from the dining chairs made of recycled soda bottles, to the pristine wood floors reclaimed from demolished buildings. The inside's decor plays on differing styles, incorporating wood and metal. And for those who prefer to dine al-fresco, the seamlessly-decorated patio proves to be a quiet oasis.
True Food Kitchen offers all: catering, take out, breakfast, brunch, lunch, dinner and a myriad of drinks from natural juice blends to fair trade coffee.
The place is small, and although the tables are extremely close together, causing some patrons to inadvertently bump elbows with their neighbors, it maintains a cozy and relaxed atmosphere.
On a recent brunch visit, the servers were kind, articulate and helpful in navigating the menu. For appetizers, I tried the veggie crudité: a colorful assortment of locally grown vegetables, including carrots, cucumbers, radishes and tomatoes. It was beyond amazing. And the best part is that the six variety of cherry tomatoes included in this dish were all grown within 100 miles of the Dallas metroplex. This delectable appetizer is served with two delicious sauces, tzatziki and black olive, which prove to be perfect for dipping vegetables.
The dining experience got better with every bite. The bison burger, placed in between a crispy bun, mushrooms, umami, watercress and parmesan cheese, is both masterfully-crafted and mouthwatering. The moist meat accompanied by a creamy spread and crispy bread could cause a vegetarian to abandon their beliefs.
The inside-out quinoa burger was an interesting spin on the American classic. The "patty" is actually the bun, a mixture with a texture somewhere in-between meat and bread. The inside consists of tomato, onion, cucumber, feta and avocado, with a shmear of hummus and tzatziki. This "burger" was delightfully light.
The margarita pizza was splendid. The cracker-thin crust added a lovely crunch while the smooth mozzarella mixed with the chunky tomato sauce created a symphony of soft texture. And to finish the bite, the basil provided a palatable sharpness.
At the end of the meal I felt refreshed and healthy-even after eating a burger. No matter what you order, your mouth will be happy in the process.
Open for breakfast, lunch and dinner
Monday — Thursday 11 a.m.-9 p.m.
Friday 11 a.m.-10 p.m.
Saturday 10 a.m.-10 p.m.
Sunday 10 a.m.-9 p.m.
$$ Moderately Priced
To-go orders recommended
– Vivian Armitage