Not as Dreamy as It Seems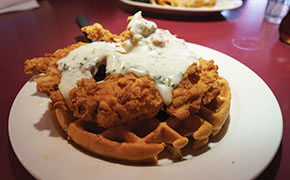 Dream Café
2800 Routh St. #170
Uptown Dallas
2/4 stars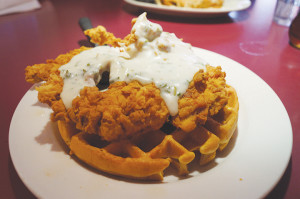 A self-described "urban retreat," the Dream Café is an eclectic diner that has been serving the Metroplex for more than 20 years. The café defines its cuisine as global because of its diverse menu options.
In late 2013, the owners of the original location in Uptown on Routh Street (Quadrangle), branched out with a second Dream Café in Addison (Village on the Parkway). Luckily, the locations are far enough apart to pre­vent any rivalry.
Like any pair of siblings though, they are very similar. Both have in­teriors with diner inspired booths, Ikea-esque lamps, motel-like abstract artwork and exposed loft ceilings. Both locations have extensive outdoor dining patios, welcoming children's play areas and adequate parking. Both Dream Café locations are in busy, mixed-use commercial areas.
The menu is all encompass­ing and offers a bewildering array of choices, from the pedestrian oatmeal to the more exotic Shrimp Soba. It also offers a variety of gluten-free items.
My friends and I visited each loca­tion. We sampled quite a few dishes. Our appetizer, The Fundito, a café sig­nature item, is a nicely spicy multi-lay­ered bean dip crowned with a flourish of guacamole and pico de gallo served with warm tri-colored tortilla chips. It was both crunchy and cheesy, as any good bean dip should be.
Our next dish was the oatmeal. I anticipated a healthy and delicious bowl of sustenance, but what was served was an unpleasant, flavor­less bowl of mush that mimicked the consistency of soup served in a crusty bowl. The toppings (bananas, pecans, brown sugar and raisins) were unin­spired and could not rescue this dish.
The New Yorker (lox and cream cheese with a red onion and caper garnish served with a toasted plain ba­gel) was a reprieve from the oatmeal, although not completely delicious. The flavor the herbed cream cheese imparted to the toasted bagel and the generous portion of lox was refresh­ing. The downside: the bagel had been noticeably frozen, thawed and reheat­ed upon reception of the order.
Next came the Glorified Omelet (spinach, Swiss cheese and mush­rooms), which was incredibly cheesy and far too greasy. The hash browns served alongside were boring and slightly burnt. The wheat toast defi­nitely saved the dish, and despite be­ing served with an indistinguishable spread, it was still delicious.
While both Dream Cafés don't excel with their dishes, they are do­ing something right in other areas. Both cafés have a diner feel with spo­radic modern accents; high ceilings, textile art and linen napkins, which are a nice touch. The outdoor din­ing areas are lovely. The staff at both locations is welcoming and intelli­gent; both locations possess a family-friendly ambiance.
However, far from the "Dreamy Experience" promised on the website and implied in the name, my culi­nary adventure at both Dream Cafés was disappointing.
Second Location:
Dream Café Addison
5100 Beltline Road
Sunday: 7 a.m.-9 p.m.
Monday: 7 a.m.-3 p.m.
Tuesday-Thursday: 7 a.m.-9 p.m.
Friday-Saturday: 7 a.m.-10 p.m.
– Vivian Armitage