Emporium Pie-looza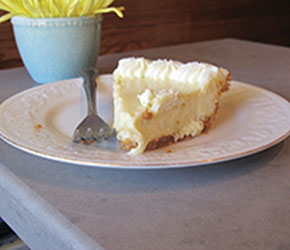 Emporium Pies

314 N. Bishop Ave, Dallas, TX 75208

4/4 Stars

Open for lunch and dinner Closed Monday Tuesday-Thursday 11 a.m. -9 p.m Friday- Saturday 11 a.m. -11 p.m. Sunday 11 a.m. -8 p.m. $$ Moderately Priced Order in advance for whole pies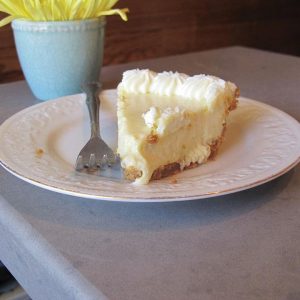 Megan Wilkes and Mary Gauntt use locally grown ingredients to make their handmade pies at Emporium Pies, a specialty pie shop in the heart of Dallas's Bishop Arts District. Located in a yellow shotgun house surrounded by various restaurants and retail shops, it is a glorious place to spend an afternoon.
The partners of this delectable establishment, Wilkes and Gauntt, create high quality pies without using artificial preservatives, hydrogenated oils, dyes or corn syrup; employing love and a lot of dedication instead.
Upon opening the white wooden door, I was greeted with a symphony of redolent smells. The open kitchen made the whole restaurant to smell of caramelized sugar, whipped butter and sweet cream while creating a cozy vibe. The glass display case boasts the restaurant's sweet confections, each one more magnificent than the last. The interior is eclectic but clean-cut; with wooden floors and filmy curtains. The seven-or-so tables have gray tops, are surrounded by matching white wooden chairs, and topped with a small, friendly flower arrangement. The whole restaurant is covered with light from multiple large windows, accented with various shades of yellow, and adorned with colorful paintings.
Come hungry, but beware–Emporium Pies is a small bakery and makes as many pies as possible but occasionally does sell out. If you wish to order a whole pie, pre-orders are encouraged.
To place your order, you walk up to a counter adorned with pies. Each pie stares back at you as if to say 'pick me, pick me,' and you face the most difficult decision of your life: choosing the best one. If you do get stuck, which is almost guaranteed, the servers are amicable and provide helpful recommendations to the pie restaurant novice.
Each piece of pie is served on a clean and stylish plate patterned with a cluster of flowers in the center. If you order the piece to-go, then it is wrapped in wax paper and placed in a cute, single-serving wooden basket accompanied with a wooden fork.
The first pie we sampled was "The Drunken Nut." This pie was a classic take on a Thanksgiving favorite. The nut to syrup ratio was well balanced, not dry and firm like the pie your aunt cooks at Thanksgiving, yet not the vintage vending machine soggy. The pecans were nicely roasted, accentuating the flavor of the almost maple-like syrup, while the shortbread crust had a flaky consistency which added depth to an already scrumptious pie.
Then came my favorite, "Lord of the Pies." This deep dish apple pie was the best pie I have ever encountered, apple or otherwise. The thick and numerous apple slices were lightly coated with a mixture of sugar and cinnamon, and gently drizzled with sweet syrup. The crust was thick and substantial, laced with butter and a hint of sugar. These factors were all scrumptious, but the best part of the pie had to be the crumbles of crust coated in sugar and cinnamon, generously covering the top of the pie.
And then came the third pie, "The Snowball." The presentation was outstanding, with deep golden coconut tumbling from the surface of the pie while the crust firmly retained the inner custard. It had a fluffy and cloud-like filling accompanied with a crunch from the toasted coconut. The crust, this restaurant's specialty, was flaky and bountiful. It was a nice but uninspired take on classic coconut crème pie.
We ended the sampling with "Strawberry Fields," a strawberry, raspberry and rhubarb pie. This pie was exquisite. The chunks of fruit were the star of the dish while the syrup took a back-seat. If you are a fan of densely filled fruit pies, this is the pie for you. The natural sweetness of the assorted fruit was gorgeously accompanied by a light treacle. Along with the fruity filling, the crust was delightful as usual. This is the perfect pie to bring to a barbecue. A perfect match for friends, hot dogs and a slew of cold beverages.
As far as drinks go, we sampled the iced tea and found it to be far too strong. The liquid had an unnatural oaky quality that verged on bitterness. And, although I don't usually enjoy sugar in tea, this beverage required multiple packets to make it bearable. Unless you enjoy your tea to taste as if it was steeped for over an hour, don't order this beverage.
Emporium Pies offers high end confections, made with fresh ingredients, at a reasonable price, ranging from four to six dollars for a generous serving. Come dine at this repurposed yellow shotgun house. You will not be disappointed.
– Vivian Armitage