TV "Guilt" Watches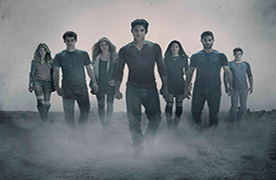 The difference between a guilty pleasure and a "guilt" watch is one you know is bad. The other starts off well and then slides down a slippery slope of bad writing and dull plotlines. But we can't look away now. The Fourcast chooses four shows to fit the bill:
      "Arrow"
When my superhero loving father (who still remained somewhat of a loyal fan to DC's franchise) told me to watch "Arrow" I was already debating the idea, as every Tuesday when I managed to tune into the CW's :Supernatural" I would see a promo of numerous well-muscled, shirtless males flash across my screen. However, I had heard less than savory things about the show from it being "sexist" to "misogynistic." But I can only resist Oliver Queen's abs for so long. Unlike the rest of these guilty pleasures, I was pleasantly surprised by the complexity and depth a show about a billionaire-playboy-superhero (who has not heard that one before?) and I found a certain lovability and comradery in the show's resident brainiac Felicity Smoak (Emily Bett Rickards) and found myself caring more for Arrow's leads than those of serious shows like "The Walking Dead."
      "The Vampire Diaries"
I am extremely guilty of getting into that phase where I marathoned the entire third season of the CW's "The Vampire Diaries." Unashamed of admitting "it has really hot guys on it," my friends talked me into watching TVD with them during freshman year. Getting hooked, I continued with it into sophomore year, in a fierce shipping debate with what seemed like half the school over the merits of "delena" or "stelena." Despite my aversion to vampires (I missed the entire Twilight phase), the show had some good moments of modern and historical supernaturalism, with an occasionally complex storyline thrown in for giggles. Eventually, I just quit, after realizing that the writing could get worse. (see Season 4 Episode 20).
      "Supernatural"
"Supernatural" will probably be around for a bit longer, as the CW's highest grossing show and, as it has been defined by some, a "supernatural" sort of "Law and Order." Following a set format of recap, flashy intro, case, then the two brothers talk about their man-pain in the last ten minutes (where all the character development happens). As much as the first five seasons had some gems of episodes (Seasons 4 and 5 were by far the best writing and directing I have ever seen from the CW), the following seasons went further and further down a slippery slope, unsure of what the show's main endgame is. The brothers have already shown that death is no longer an obstacle, and have steadily worked their way through the Bible's villains. As they approach Season 10, I am a bit lost on why I still watch it at all.
      "Teen Wolf"
"Teen Wolf" is one of those shows that you think is a joke until you watch the first episode. It does not however gain its true character until late season two to season three, with a different sort of turn in the whole show mythology. Instead of using traditional European mythology associated with werewolves, "Teen Wolf" utilizes Aztec, Mayan, Japanese, Welsh, and Native American legends to construct its world.
I do not have a beef against the show. I love the world it takes place in. The issue I have with it is the writing. According to the casting calls for Season 3, Cora Hale (Adelaide Kane) was written solely as a romantic/sexual interest for Stiles Stilinski (Dylan O'Brien). However, the actress left the show when she was cast in Reign so the spot for a Hale woman was quickly filled by Malia Tate (Shelly Henning).
I am upset at the writing of the show, not the actress. The logic makes little to no sense, and character development primarily happens off-screen. How could someone who lived as a coyote for a decade know how to kiss like that? And if she knows those basic human social cues, shouldn't she tone down the offensive and abrasive personality?
The only reason I keep watching "Teen Wolf" is for the women who actually get things done. For Lydia Martin (Holland Roden) who, true to Roden's word "it is Lydia's season [Season 4]."
My only question is if she is such an integral part of the show, why does the writing craft her as the outsider rather than newcomers like Malia?
It is an endless cycle. It's hard to get off of anything you emotionally invest in. I just wish television stopped with idiotic plotlines, "shocking" deaths, and lazy writing.
– Kate Clement
[nggallery id=110]
If you're interested in watching any of the aforementioned shows, refer to the text below.
"Arrow" – Season 3 airs on Wed., Oct. 8 at 7 p.m on the CW.
"Vampire Diaries" – Season 6 premieres on Thurs., Oct. 2 at 8 p.m.
"Supernatural" – Season 10 begins on Wed., Oct. 8 at 8 p.m. on the CW.
"Teen Wolf" – Season 5 will not premiere until June of 2015.