Hockaday Alumna Gives Orphans a Voice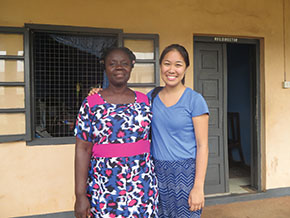 Christine Chen creates an audio documentary highlighting Ghanaian voices to address orphan care reform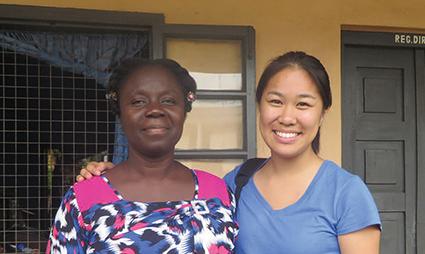 Imagine being in a situ­ation where you, as a Ghanaian parent, are desperate for the chance to give your child a brighter fu­ture, but crippled by your own poverty.
Like a stroke of luck, "you're told that your child can have the opportunity to go to a private boarding school run by some­one who appears wealthy," said John Stevens, founder of the nonprofit organization Kaeme.
"It's no charge until he's 18 if you sign one piece of paper. It turns out that this paper is a consent for adoption. I think that is a literal kidnapping."
This situation is becoming increasingly more common in Ghana and has led to the cre­ation of an orphanage system that fails to support children emotionally and prepare them for living independently in the future. Stanford sophomore Christine Chen '13 visited Gha­na this past summer to create an audio documentary high­lighting the current and future dimensions of orphan care in Ghana. She also interned with Kaeme, a nonprofit that is al­ready making sustainable re­forms to the Ghanaian orphan­age system.
Her approach to making a dif­ference in Ghana is different from traditional charity work because the audio documentary aims to bring awareness to the flaws in Ghana's orphanage system.
Chen says, "Though numer­ous orphanages have the chil­dren's interest at heart, many orphanages keep children in poor conditions to obtain money from sympathetic for­eign donors. Donors may see orphanages as a simple way to "help," without realizing the complexities of the issue."
Chen learned on her trip that these misconceptions can be extremely detrimental to child welfare and development.
Chen's mentor for this proj­ect, Dr. Daryl Reicherter, says that he gave her some "practi­cal expectations for working in a challenging setting with a difficult population," based off of his numerous years of expe­rience working with orphaned children in foreign countries.
"Challenging" and "difficult" are two words that accurately describe Chen's average day in Ghana.
On a trip with Kaeme, Chen visited a young, recently-or­phaned 16-year-old teenager named Richard at his home. When Richard spoke, he direct­ly addressed the interns and earnestly thanked them for their work.
Chen reflects, "Hearing these words, and then later hearing Richard and the others tell us about their aspirations to be doctors and lawyers and foot­ball stars left me with a com­plicated feeling."
Right now, Chen is not sure about her plans for next sum­mer, but believes that it is im­portant for her to understand all the factors that pertain to this topic before continuing to address orphan care reform.
There are shortcomings in the Ghanaian orphanage sys­tem; nevertheless, there are people in Ghana who are try­ing to give orphaned kids a nor­mal childhood filled with love and affection from father and mother figures.
"For me, though, what is most heartwarming is seeing signs of places that are trying to raise these children without the stigma or label of orphan," Chen says. "After visiting a woman who is raising several orphaned children as her own, she told me she hopes to give them as normal a life as possible, free from any of the associations of being orphaned."
– Eshani Kishore – Asst. Business Manager