Females in Film Adjust the Focus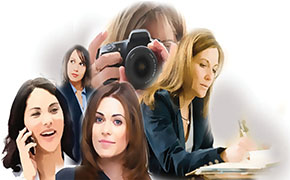 As many industries have promoted more gender equality, one sector, which has made a large portion of its revenue from portraying women, is still leaving women out of positions of power.
According to a study by the Uni­versity of South­ern California's Annenberg School of Journalism, the percentages of females in the field of entertain­ment were signifi­cantly lower than those of males: only seven percent of direc­tors, 13 percent of writers and 20 percent of producers were female in the top 500 grossing films between 2007-2012. Simply put, for every five men behind a camera, for every five men in a writer's room or for every five men developing a concept, there is only one woman.
There is still a perception that women cannot develop stories that are intrinsically masculine, such as the genres of action, horror, and sci-fi.
Producer and Alumna Athena Wickham '98 works at Bad Robot, a film and television production company owned by the Academy Award-winning filmmaker J.J. Abrams. As a producer for shows like sci-fi legend Abrams' "Fringe" and Eric Kripke's, creator of "Super­natural," "Revolution," Wick­ham mainly works in a genre that, as she said, is "pretty sexist."
"The question isn't whether there is or is not a gender gap in the entertainment industry, it's where the gap lies," Wickham said. Wickham and many of her female colleagues see the gap especially in the "in­trinsically masculine" genres, for example sci-fi, thriller and action storyteller. "Male execu­tives and producers often as­sume that only a man can write or direct stories like those," she said. This preconceived notion permeates throughout both film and television.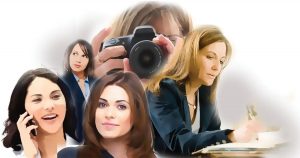 A review of past winners of the Academy of Motion Picture Arts and Sciences' awards for directors and writers reveals this disproportion. Since a woman was first nominated for the award in 1976, only one woman has ever won the Acad­emy Award for Best Director. Kathryn Bigelow, who won this prestigious award in 2009 for "The Hurt Locker," defied the idea that a woman could not direct an action film. "The Hurt Locker" was a film about an American bomb squad during the Iraqi War.
When it comes to writing, there are two award catego­ries: Best Adapted Screenplay and Best Original Screenplay. The first time a woman was nominated in the Best Adapted Screenplay category was in 1928, which was the second year the award was given. Hockaday Alumna Jay Presson Allen '40 was nominated twice: once for "Cabaret" in 1973 and once for "Prince in the City" in 1982. The first time a female was nomi­nated for Best Original Screen­play was in 1943. More women have won the Academy Award for Best Adapted Screenplay (eight) than for Best Original Screenplay (seven) in the 65 years of the Award's history.
Female producers seem to be more recognized. Since 1973, of the 227 Academy Award Best Picture Nominees, 26.9 percent have credited at least one woman as a producer. Many women in the industry have attributed this disparity to the idea that large companies are often averse to hiring women, according to the Geena Davis Institute on Gender in Media, and are more likely to hire a male writer or director.
However, studios and networks are now recognizing that these statistics are a growing problem and trying to change it.
"Whenever they [studios and networks] are hiring their writers for each season or directors for each episode, many are starting to go out of their way to make sure a larger percentage of them are women," Wickham said. In addition, the amount of women and men who work at her company, Bad Robot, is relatively equal. For many networks where the "white old men" hiring have "old-fashioned" views, the gap remains disportionately large.
Despite popular belief, a woman's work in film is indiscernible to that of a man's, based on results from a Fourcast survey. In the survey, girls were asked to determine whether or not a movie was produced by a man or at least one woman. Many made logical guesses, based on the female roles in the movie, genre, when the movie was made, level of misogyny/sexism and plot of the movie.
Why should anyone care whether a man or woman creates a story? Realistically, because, who better to tell a woman's story than a woman herself? Are women being portrayed by men in an authentic light or as they [men] would hope or want women in their idealistic way to appear?
"Especially in dealing with male creators, you have to remind them to not just create a sexually compelling woman or an object to aide in the male protagonists' 'quest.' Sometimes you have to ask what is she feeling and remind them to put just as much value into making her a real person," Wickham said, referring to her work with Abrams, Kripke and Oscar Award-winning director Alfonso Cuaron.
Men will always write and create female characters, but a statistic published by Entertainment Weekly affirmed that females in entertainment are more likely to write a realistic female lead because creators, directors or writers who are male often view their female characters from an "outsider's" point of view. This echoes the viewpoint of an anonymous Hockaday senior who responded to the Fourcast survey. "I don't think anyone can really tell which movies are produced by females because it's probably not directly reflected in the content of the movie," she said. "However, I think that female producers are more likely to write a realistic female character than a man."
Advanced Film class student Lexie Chu agreed.
"There's nothing right or wrong about men writing women," Chu said. "Women just seem to focus on different things than a male would. They see the small details that make something 'real.'"
Kate Clement
A&E Editor