Interstellar is Stellar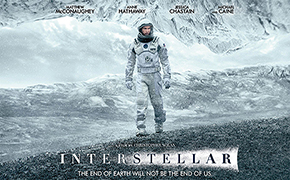 Interstellar
Christopher Nolan
4/4 Stars
Matthew McConaughey didn't deserve an Oscar last year.
As NASA engineer and pilot Cooper, he helms Chris­topher Nolan's "Interstellar" and carries the emotional weight of the film, mak­ing me mutter in the theater, "best actor this year."
As NASA engineer and pilot Cooper, the main character, he helms Christo­pher Nolan's "Interstellar" and carries the emotional weight of the film, mak­ing me throughly convinced he deserves the Academy Award for Best Actor again this year.
While Alfonso Cuaron's "Grav­ity" created this revival of space-themed films last year, I only had a pounding heart from Cuaron's thriller. Interstel­lar has "upped" the game with a cock­tail of an incredible story, meaningful quotes and a bucket of emotions. A true story about adventure, the film tells of a group of explorers searching for a new home planet, as the Earth is slowly ren­dered uninhabitable.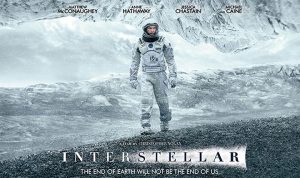 Despite its nearly three-hour run time, the movie leaves viewers wanting more, ending, as many Nolan movies do, on a melancholy note. Wrought with death, the film establishes a purpose for each one, but still gives viewers enough time to cry over its characters' passing.
But, the strongest emotions felt dur­ing the movie aren't because of death at all. One of the most important themes in In­terstellar is family. The movie's first tears involve McConaughey driving away as his 14-year-old daughter, Murph, (Mackenzie Foy) begs him to stay. While Murph and Cooper spent probably 20 minutes togeth­er in total and Dr. Brand (Michael Caine) and Amelia Brand (Anne Hathaway) spent even less, the love between father and daughter is technically the whole rea­son why humanity is saved. Without her father's desire to save at least her, Amelia Brand would have never left the galaxy to found a new colony. Without her father's determination to see her one last time, adult Murph (Jessica Chastain) would have never solved the equation necessary to save the Earth's remaining population. But I can never forget Chastain's deliver­ance of the line "Daddy, I need to know… Did you leave me here to die?"
While originally labeled as a sci-fi movie, Interstellar embodies a new era of adventure films depicting a not-too-distant apocalyptic future. Set in the 2070's, the "remaining" population of the Earth suffers from Dust Bowl-like conditions caused by increased nitrogen and there­fore decreased oxygen in the atmosphere.
Many signs point to this apocalypse beginning and ending in our own home state, such as the rolling hills and the flat plains where Cooper travels, one of NASA's headquarter being located in Houston, the familiar crops that suffer from this futuristic Dust Bowl and Nolan's ex­citement to cast "Texas native" McCo­naughey.
Nolan's "sci-fi" is more "science" than "fiction." In early pre-production, Nolan and Executive Producer Dr. Kip Thorne, a theoretical physicist whose work with the film was based on, agreed that nothing in the film would violate physical laws (the science part) and that all wild speculations would stem from scientific theory (the fiction). Something oddly lacking in "Interstellar," as com­pared to other sci-fi films, is aliens. By never showing alien threats to the astro­nauts, "Interstellar" instead focuses on how mankind's fears can become their greatest enemy.
McConaughey speaks not just to the movie's theme but speaks to our genera­tion in "We've always defined ourselves by the ability to overcome the impos­sible. And we count these moments. These moments when we dare to aim higher, to break barriers, to reach for the stars, to make the unknown known. We count these moments as our proud­est achievements. But we lost all that. Or perhaps we've just forgotten that we are still pioneers. And we've barely begun. And that our greatest accomplishments cannot be behind us, because our des­tiny lies above us."
– Kate Clement