Welcome to the 72nd Annual Golden Globes
Tiny Fey and Amy Poehler host the Golden Globes for the third and final tonight on NBC at 7 p.m. Central. The Fourcast choose its winners and the predicted awardees tonight…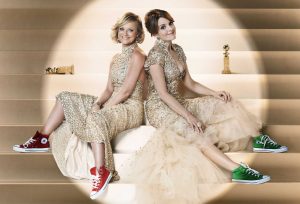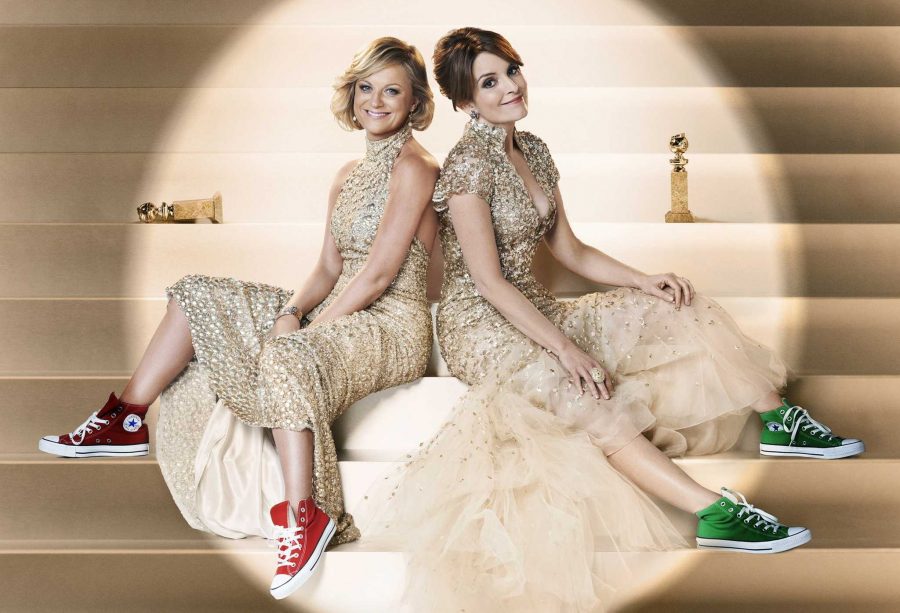 Best Motion Picture, Drama
Boyhood
Foxcatcher
The Imitation Game
Selma
The Theory of Everything
Critics have ranted and raved about every single one of these movies. I have to say that all could win. Boyhood is an indie darling. Foxcatcher is about the downward spiral of a star, like last year's Wolf of Wall Street. Selma is a new look at a biopic, about Martin Luther King. The Theory of Everything is a strong endearing mathematical love story. But, as much as I seem to have a feeling that either Selma or Boyhood is going to win, I want The Imitation Game to win. It's interesting and doesn't cover history that is known. We learn about MLK all the time. World War II films are getting boring. But, The Imitation Game is refreshing and a look at a battle that isn't as much about blood and action, as it is about mind games.
Best Motion Picture, Musical or Comedy
Birdman
Grand Budapest Hotel
Into the Woods
Pride
St. Vincent
Indie movies win. It's a fact of award shows. So there's a toss up between Birdman, the "poetic" tale about an actor only known for playing a superhero who makes a comeback, and Grand Budapest Hotel, Wes Anderson's latest film that I don't understand. But, I liked Into the Woods. It's a musical, but it's a Sonheim musical. It's not like the audience-love, disaster, Mamma Mia, it's got the glowing essence of Les Miserables that makes a good story. It's a comedy where fairytales realize that happy endings just aren't a thing. I didn't laugh in Birdman and I certainly was more confused than giggly in Grand Budapest Hotel. I laughed and cried and sang in Into the Woods.
Best Actor in a Motion Picture, Drama
Steve Carell, Foxcatcher
Benedict Cumberbatch, The Imitation Game
Jake Gyllenhaal, Nightcrawler
David Oyelowo, Selma
Eddie Redmayne, The Theory of Everything
This is a close race. Every single actor in this category deserves an award in their own right. Benedict Cumberbatch, a rising star, played the famous Alan Turing with surprising accuracy. David Oyelowo is relatively unknown, but in Selma, I have a hard time forgetting that this isn't Martin Luther King Jr. playing himself. Eddie Redmayne, who tugged at our heartstrings two years ago in Les Miserables as Marius, returns to romance as Stephen Hawking. But, Jake Gyllenhaal or Steve Carell deserve the award. Gyllenhaal is creepy-good as a guerilla journalist in L.A. Carell truly steps out of his comedic comfort zone and haunts us as John du Pont. Either deserve it for convincing me to fear them.
Best Actor in a Motion Picture, Comedy or Musical
Ray Fiennes, The Grand Budapest Hotel
Michael Keaton, Birdman
Bill Murray, St. Vincent
Joaquin Phoenix, Inherent Vice
Christoph Waltz, Big Eyes
Critics and audiences alike agree that Michael Keaton is the obvious choice. Birdman was one of the best movies this fall. And it's a story that Keaton knows all too well, playing it well enough to intrigue and delight audiences with bursts of comedy behind an overall depressing story.
Best Actress in a Motion Picture, Drama
Jennifer Aniston, Cake
Felicity Jones, The Theory of Everything
Julianne Moore, Still Alice
Rosamund Pike, Gone Girl
Reese Witherspoon, Wild
Gone Girl is predicted to take the crown at the Golden Globes, including the title for Best Actress. Rosamund Pike is one of the strongest predicted winners for not only the Golden Globes but the Screen Actors Guild Awards and the Academy Awards. However, I enjoyed Reese Witherspoon in Wild more than Gone Girl's Pike. Many of us have grown up with Witherspoon, from her pink and perky days as a law student at Harvard to her raw performance in Wild. This is the third Golden Globe nomination for Witherspoon, although the first in the Drama category for Best Actress. While Pike is a newcomer to the scene, Witherspoon is a veteran who has finally hit the mark.
Best Actress in a Motion Picture, Musical or Comedy
Amy Adams, Big Eyes
Emily Blunt, Into the Woods
Helen Mirren, The Hundred-Foot Journey
Julianne Moore, Maps to the Stars
Quvenzhané Wallis, Annie
Sometimes an awardee is chosen politically. I feel like that is what might happen if Quvenzhane Wallis wins. I'm not saying that the 11-year-old Oscar nominee didn't give an admirable performance in Annie. I just found Amy Adams' compelling portrayal of Margaret Keene to be far superior to Helen Mirren, Julianne Moore, or Emily Blunt's roles. Adams' role wasn't quite a comedy but more of a dramatic role enclosed within the comedic title. I lost Adams within Keene, sympathizing her status as a woman in the 1950's. Still, predictions say Moore has it in the bag, although I can't see why.
Best Supporting Actor in a Motion Picture
Robert Duvall, The Judge
Ethan Hawke, Boyhood
Edward Norton, Birdman
Mark Ruffalo, Foxcatcher
J.K. Simmons, Whiplash
Despite The Judge being regarded by the critics as one of the worst movies of the year, I still enjoyed it. I love Robert Downey Jr. and didn't think that he was completely "stiff and awful." However, Robert Duvall really catapulted the movie from "eh" to "yeah!" For me, I think it's between Duvall and Mark Ruffalo for Best Supporting Actor. Ruffalo truly supported the storyline in Foxcatcher, as wrestler David Schultz. But, both actors portrayed something that we rarely glimpse in serious films. True familial love. Ruffalo showed how much compassion he had for his brother, Mark (Channing Tatum), while Duvall hides his love for his son (Robert Downey Jr.) under a gruff exterior.
Best Supporting Actress in a Motion Picture
Patricia Arquette, Boyhood
Jessica Chastain, A Most Violent Year
Keira Knightley, The Imitation Game
Emma Stone, Birdman
Meryl Streep, Into the Woods
Obviously, as per usual, Meryl Streep has a high prediction of winning. I personally think that while she gave an excellent performance in Into the Woods, she still isn't "the best" in this category. Jessica Chastain was crazy good, as usual in A Most Violent Year. Keira Knightley was as charming as ever in The Imitation Game. However, Emma Stone made her return to comedy with Birdman, supporting the action of the story and truly being "funny." While still being young, she's explored every side of film, and personally I think this is one of her best films yet. However, any one of these lovely and talented ladies deserve to win.
Best Director
Wes Anderson, The Grand Budapest Hotel
Ava DuVernay, Selma
David Fincher, Gone Girl
Alejandro González Iñárritu, Birdman
Richard Linklater, Boyhood
David Fincher is a shoo-in to win Best Director. Unless the Golden Globes decide to give an award for "prettiness," then Wes Anderson will win, Fincher created a story that is better than the book. Since Gillian Flynn wrote the screenplay, it wasn't that which made Gone Girl a better movie. His talent with the camera and directing the actors, created a far more compelling story than the novel.
Best Animated Feature Film
Big Hero 6
The Book of Life
The Boxtrolls
How to Train Your Dragon 2
The Lego Movie
Asking me to choose an animated film is actually cruel. Big Hero 6, being a Marvel movie, automatically becomes a cherished film in my heart. I got to get an inside scoop into The Book of Life in September with ArtsCast and began to understand the deeper meaning behind the film. And How to Train Your Dragon 2 had a really good story… and Kit Harington voicing a character that was basically Jon Snow. So, I am just going to rule out The Boxtrolls and The Lego Movie winning and refuse to choose between those three.
Best TV Movie or Miniseries
Fargo, FX
The Missing, Starz
The Normal Heart, HBO
Olive Kitteridge, HBO
True Detective, HBO
True Detective was a smash hit this year but for a good reason. It was well-written, well-acted, and well-received. HBO had a killing this year. With three nominees in the category, they are clearly doing something right. The Normal Heart would be my second choice to win, with Matt Bomer and Mark Ruffalo helming the AIDS drama. However, I do appreciate FX's attempt to revive the mini series with Martin Freeman's Fargo. The remake of the horror film is biting and terrifying, making it another worthy competitor.
Best TV Series, Drama
The Affair, Showtime
Downton Abbey, PBS
Game of Thrones, HBO
The Good Wife, CBS
House of Cards, Netflix
Downton Abbey wins every single year and I'm sick of it. Seriously, I get that every single person who decides awards is in love with British drama, but that doesn't mean that it deserves an utter monopoly! I was fine when Breaking Bad won all the time. I accepted it and actually thought that particular season deserved to win. But, seriously Downton Abbey was sub-par this year. Game of Thrones, while being reputed to be gory and sexual, is actually one of the best shows on TV. It's just AP Euro politics. And honestly, the best thing about it is that its politics are without the nasty boundaries of laws in its way. It's probably what Congress looks like under the surface.
Best TV Series, Comedy or Musical
Girls, HBO
Jane the Virgin, The CW
Orange Is the New Black, Netflix
Silicon Valley, HBO
Transparent, Amazon Instant Video
Girls also has an utter monopoly on this category too. I don't see why it's so funny, but maybe adults think that it is. I didn't think that Orange is the New Black was as amazing as everyone told me. However, Silicon Valley and Jane the Virgin were actually good comedies. Silicon Valley is very 80s, but I actually get the humor. Jane the Virgin, the first CW show ever nominated for a Golden Globe, was adapted from a Latin telenovela and according to many critics is "a trailblazer" taking apart stereotypes as it goes.
Best Actor in a TV Series, Drama
Clive Owen, The Knick
Liev Schreiber, Ray Donovan
Kevin Spacey, House of Cards
James Spader, The Blacklist
Dominic West, The Affair
The race is only between two people. Kevin Spacey, who has led House of Cards from just a Netflix show to national acclaim, and James Spader, who made The Blacklist more than just a cop show. I love them both equally, though predictions say that Spacey will take home the trophy.
Best Actor, TV Series Comedy
Louis C.K., Louis
Don Cheadle, House of Lies
Ricky Gervais, Derek
William H. Macy, Shameless
Jeffrey Tambor, Transparent
Jeffrey Tambor always found a way to make me laugh in Arrested Development. Apparently, he does the same in Transparent, a comedy that has received quite a bit of national coverage that I haven't gotten a chance to watch, as it is only available on Amazon Prime.
Best Actress in a TV Series, Drama (5 way deadlock)
Claire Danes, Homeland
Viola Davis, How to Get Away With Murder
Julianna Margulies, The Good Wife
Ruth Wilson, The Affair
Robin Wright, House of Cards
This race is a 5-way deadlock that no one can predict the outcome of. Claire Danes might secure her 5th Golden Globe win, third for Homeland. Viola Davis, the breakout star of The Help who apparently didn't deserve an Oscar for her amazing portrayal as Aibileen, a fact that I am still bitter about, is absolutely amazing in Shonda Rhimes' latest masterpiece, How to Get Away with Murder. This is Julianna Margulies' sixth Golden Globe nomination, and according to sources, she might have finally given a "Good" enough performance as The Good Wife, to merit the award. Ruth Wilson, the newbie, could potentially take the category too, although shows like The Affair usually don't win. However, Robin Wright, last year's winner, could have it in the bag. For some reason, House of Cards is so addictive that it makes a winner out of anyone.
Best Actress in a TV Series, Comedy
Lena Dunham, Girls
Edie Falco, Nurse Jackie
Julia Louis-Dreyfus, Veep
Gina Rodriguez, Jane the Virgin
Taylor Schilling, Orange Is the New Black
Last year, I remember jumping up and down when last year's host Amy Poehler won this category for her fabulously funny work in Parks and Recreation. According to predictions, the usual suspect, Lena Dunham (Girls) will win.  However, I recently found that I really like telenovelas. Gina Rodriguez, a Latina actress who has been named one of the "biggest breakout stars of 2014", is genuine in the confusion of a steamy soap. She makes me miss Ugly Betty and the wholesome messages that shine through the drama.
Best Actor in a Miniseries or TV Movie
Martin Freeman, Fargo
Woody Harrelson, True Detective
Matthew McConaughey, True Detective
Mark Ruffalo, The Normal Heart
Billy Bob Thornton, Fargo
This race has been heralded as another tie. All of these actors have been smash hits for their other work in the past several years. Martin Freeman somehow found time to get nominated for two Emmy's, and win one for his work in Sherlock, and still finish his blockbuster Hobbit series. Woody Harrelson provides sarcastic comic relief in The Hunger Games, while giving one of what I think is his best performances yet in True Detective. Matthew McConaughey plays his usual Texan that has led to his "McConaugh-aissance" of "stellar" roles, which to me is starting to seem a bit dry. Mark Ruffalo has two Golden Globe nominations, for Foxcatcher and for his wonderful performance in The Normal Heart. I refuse to choose any of these four, though the predictions tell me that McConaughey takes it all. Alright, alright, alright.
Best Actress in a Miniseries or TV Movie
Maggie Gyllenhaal, The Honorable Woman
Jessica Lange, American Horror Story: Freak Show
Frances McDormand, Olive Kitteridge
Frances O'Connor, The Missing
Allison Tolman, Fargo
As Jessica Lange's last season on the creepy hit American Horror Story finishes, I think that the two-time Oscar winner will get the award. She's only won once, for the first season of American Horror Story, but I think that really her performance in Season 4 was not my favorite. If anything, then she should win for Season 3's Supreme. However, Maggie Gyllenhaal is a phenomenal actress who wisely chooses roles that show her best side. The Honorable Woman was one of those, giving her the pick.
Best Supporting Actor in a Series, Mini-Series or TV Movie
Matt Bomer, The Normal Heart
Alan Cumming, The Good Wife
Colin Hanks, Fargo
Bill Murray, Olive Kitteridge
Jon Voight, Ray Donovan
Predictions can't really choose who will take the trophy, but many are rooting for Matt Bomer. This year was a big one for Bomer, after White Collar ended and he had a guest star role in American Horror Story. He gave a moving performance in The Normal Heart, something I think none of the other actors achieved in this category.
Best Supporting Actress in a Series, Miniseries, or TV Movie
Uzo Aduba, Orange Is the New Black
Kathy Bates, American Horror Story: Freak Show
Joanne Froggatt, Downton Abbey
Allison Janney, Mom
Michelle Monaghan, True Detective
The race is really between two people. Kathy Bates, who has provided Hollywood with steady, excellent work over the years, or Joanne Froggatt, the obligatory Downton Abbey nominee of the year. Probably, since Downton has had rather scarce presence at the award show this year, Froggatt will win. But, Bates gave a better than usual performance in Season 4 of American Horror Story, eliciting something quite the opposite of fear out of me.
–Kate Clement