Snap Kitchen's fruit and vegtable loaded food is a perfect lunch.
From the moment I swung open the glassy green door, I knew that I was in a healthy foodie's heaven. If the Juice Bar served food, this would be it. Snap Kitchen, based in Austin, also has storefronts in Dallas and Houston. A newbie to the Dallas area, Snap Kitchen recently opened three locations, one at the Preston and Royal intersection, another in Snider Plaza in Highland Park and the last in Uptown off of McKinney Avenue. Snap Kitchen seems to be a popu­lar hangout among the young and fit crowd. They have ready-to-eat or ready-to-heat-up meals for take out.
The walls are lined with open re­frigerators, which house all of their breakfast, lunch, dinner, snack and beverage options. It was nice not hav­ing to wait in line to order. Not for the faint of heart, this is not a place for picky eaters because of the obscu­rity of many of the food items on the menu. However, everything in Snap Kitchen is ridiculously healthy. They pride themselves on serving palatable gluten-free, dairy-free and sodium conscience meals. I am happy to say that for a gal with a food allergy, this is correct and refreshing. It was a lux­ury not having to worry about what I could and could not eat; everything was up for grabs.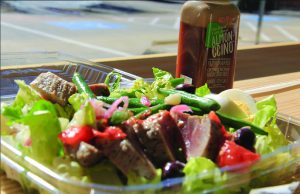 The breakfast options were plen­tiful, and I even considered having one for dinner. The lunch and dinner options overlapped; quinoa, chickpea salad and veggies were among the most common items in the fridge. Most of the meals were vegetarian, al­though a couple turkey burgers could be found. Let me not forget the juices. Snap Kitchen freshly presses their own juices, ranging from Spicy Basil Lemonade to the Chai Cashew Milk­shake. However, most of these juices are part of a one-day juicing program that Snap Kitchen offers.
I decided to try the Mediterranean Spaghetti Squash and the Lemon Gar­lic hummus for dinner. My sister had the Kale Caesar Salad and Garlic Cau­liflower. Since it was our first time there, the cashier was very kind and gave us one of the entrees for free. The staff was helpful with selecting my ideal meal. The spaghetti squash was tasty but could use more seasoning. The hummus was bursting with lem­ony flavor and I would definitely rec­ommend it. Unfortunately, the kale salad was a lame excuse for a Caesar salad. They took away the best part: the crouton. In its place were raisins, which was a slight disappointment.
This is not the place to come if you are looking for a hearty, meat-lovers dish but rather if you are in the mood for something light and refreshing. After we had managed to eat every bit that we had purchased, we were still hungry. So, we purchased some gluten-free cookies, which were very chocolatey but lacked the moistness that a cookie should always have.
Snap Kitchen lacks seating and only provides a counter for guests to munch at. They do, however, provide two microwaves and an endless sup­ply of spices, sauces and condiments if you choose to dine in.
Overall, I applaud Snap Kitchen for its "snappy" execution of healthy dining.
– Mary Claire Wilson, Asst. Sports Editor