Rainbow Alliance Club Introduces Forums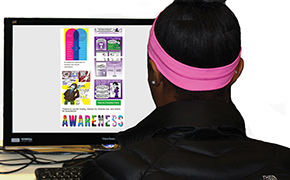 Rainbow Alliance creates new method of sharing LGBTQA information through forums.
Since last November, The Upper School administration has been helping the Rainbow Alliance find a way to distribute information about various lesbian, gay, bisexual and transgender issues and topics to the Upper School community.
Together, they wanted to find a way that would allow for conversation and provide an adequate environment for dialogue.
Senior Laura Nagy, President of the Rainbow Alliance, suggested a newsletter to not only educate the Upper School students, but also to foster a welcoming community for the LGBT students at Hockaday.
"Really, what we're trying to prevent is misinformation," Nagy said. "The most harmful thing to the LGBT cause is people not understanding what this means and why it's important that we represent it."
Sophomore Audrey Black drafted a newsletter last November which consisted of definitions about sexual orientations and gender identities, tips about how to stand up for people, representative art and blurbs about breaking news stories concerning LGBT issues.
Upper School Head John Ashton and Assistant Upper School Head Elizabeth Jones, supportive of LGBT education and conversations, suggested an alternate mean of communication for this information.
"We want to give students a teaching and learning space where they can discuss these topic, seek understanding and ask questions," Jones said.
Because a newsletter does not allow for community conversation and is available to all, Jones and Ashton suggested a forum as a way of educating and supporting the community.  It was a model Ashton had used successfully in the past with the Rainbow Alliance, formerly called the Gay Straight Alliance, when the students wanted a broader conversation.
The Rainbow Alliance was not the only club to have these conversations with the administration. In the past, the Human Rights Committee also wanted to send out a newsletter focusing on its theme of human trafficking and refugee rights. Similar to the Rainbow Alliance, Ashton worked with the girls in order to find a different way of communicating important news and information in an educational and safe manner.
And the Rainbow Alliance hopes that he can do the same with their club.
"We have a large [LGBT] community, and they deserve to be represented because they are just as much a part of Hockaday as [everyone else]," Black said.
On Jan. 21 the Rainbow Alliance and the Upper School administration agreed on a date for the first Rainbow Alliance Forum which will be held on Feb. 26 during Conference and lunch in Clements Lecture Hall.
Director of Service Learning and Rainbow Alliance sponsor Laura Day was involved in the planning of the forum.
"The solution was to put it in an educational spot, or capacity, as opposed to on a newsletter," Day said. "[And] to put it in a space where you can have a conversation or ask adults or ask people who know what's going on."
It will cover basic topics, specifically focusing on definitions of sexual orientations and gender identities.
"We are going for a definition-heavy forum," Nagy said. "Definitions about different sexualities. People are less aware about different romantic attractions, the spectrum of attraction, and the medical and psychological side of what it means to be gay."
A second forum will take place in April covering transgender issues and information.
And even though the forum now exists, the Rainbow Alliance strives to find a way to make a newsletters happen.
"Hockaday has taken a lot of steps that I think are definitely in the right direction, but there's still a lot of space to go [forward]," Black said.
in the right direction, but there's still a lot of space to go [forward]," Black said.
Still, the forum is a step forward for the Rainbow Alliance.
"I'm excited about the forum," Black said. "I'm hoping that the forum will be a stepping stone for other things [because] I think that any community benefits from recognizing its internal diversity and treating each individual equally and respecting their identity."
While the decision has been made to host forums for the rest of the 2014-15 school year, both Jones and the Rainbow Alliance hope to make them a tradition.
"I think [the] Rainbow Alliance this year is made up of an incredibly strong, passionate and dedicated group of students," Jones said. "My hope is that the conversation continues to live outside of the space that we have reserved for it on Feb. 26."
Erin Thomas, Web Editor