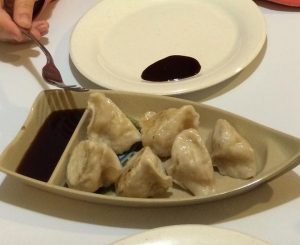 Every Wednesday, I spend 24 hours as a vegan. While I find this experience enjoyable and refreshing, it can certainly be a challenge finding delicious and filling meals. Yesterday evening, I researched numerous vegan restaurants and found myself at The Loving Hut.
The Loving Hut is the fastest growing international vegan restaurant chain according to their website. All of the options on the menu are guaranteed 100% vegan. The Loving Hut chains all have an Asian flare, but each restaurant has a slightly different menu.
I visited the Midway Road location and enjoyed the food. For an appetizer, I highly recommend the pot stickers made with tofu and cabbage. The six count makes them the perfect size to share with another person.
For a main course, the tangy orange divine is a must-have. The sauce is refreshing and complements the crispy soy protein balls, broccoli and rice well. For only $10.95, this entrée is filling and well-priced.
If you are looking for a lighter option, the wonton soup is also tasty. The broth is nice and light; however, the stuffed wontons within were slightly overcooked. As a whole, it is still a nice dish.
Coming from someone who eats vegan 1/7 of the time, this meal was probably the best vegan food that I have eaten. My steak-loving dad joined me for the meal and admitted to enjoying his food as well. Set the steak and egg aside and give the Loving Hut a chance; you just might like it.
4.5/5 stars
-Austria Arnold