Good Public School Food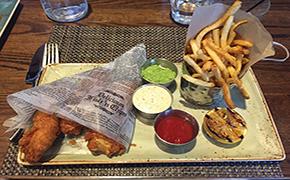 PS214
$$
214.585.9478
Open 10 a.m.–11 p.m.
Monday – Sunday
From the moment I entered Public School 214, I felt right at home. Maybe it was be­cause all the waiters and hosts imme­diately smiled at me or that the en­tire place gave a sense of familiarity (maybe it was the school theme?), but the entire experience has completely changed my expectations of dining. From the service to the food, every­thing exceeded the standards I had before walking into the restaurant. Originating from California, PS 214 opened in late January and has been doing so well ever since that they will soon be expanding to a new location in Addison, PS 972. Each of the "Pub­lic School" restaurants are numbered  after the area code of the city they are located in. The restaurant seems to be popular with a younger crowd.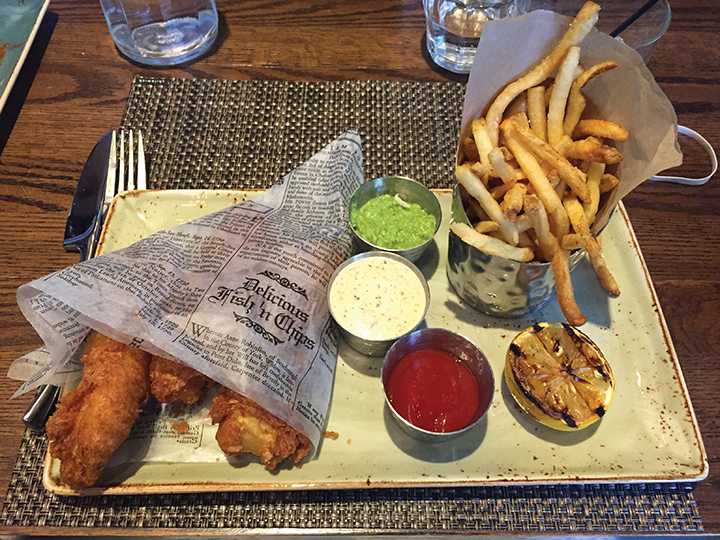 To add to the "classroom" ex­perience, the entire far wall of the restaurant is covered in shelves full of globes. And on either side of the shelves, there are bookshelves filled with textbooks. The menu, designed like a com­position book, has a variety of ap­petizers that include Crispy Buffalo Cauliflower and Fiery Calamari, a choice of soups and salads, sandwich­es, burgers and a separate section for different types of entrees. The burg­ers range from bison to lamb. The brunch menu, designed to look like a scantron sheet, has more "breakfast" foods. These include chicken sausage and cheddar grits, fried jidori chicken and waffles, and fire roasted vegetable hash and eggs.
Even though it was a busy Sun­day during brunch, PS 214 seated us almost immediately. As an appetizer, I ordered the Chorizo Mac and Cheese. This was un­like any pasta I've had before. Instead of the regular pasta with cheese, they added kale and salt and vinegar chips. This made for a very interesting dish with a variety of flavors and textures normally not present in a simple mac and cheese serving. The salt and vin­egar chips added a little crunch to the pasta, as well as a sour twinge to it. It took a couple of bites to get used to this new taste, but overall it was a nice twist to a classic dish.
As an entree, I ordered the stuffed French toast of the day: Nutella and bananas. Two slices of French toast with a hearty helping of Nutella in between and cooked bananas on top. The entire thing was served with icecream on the side. While this wasn't the most healthy of dishes, it made for a unique outlook on a simple idea. And while I have never been a fan of bananas, this dish made me want to never stop eating them.
My mom, a strict vegetarian, was unsure of what she wanted to eat, so the restaurant made her an "off-the-menu" dish: poblano peppers stuffed with Quinoa, with a side of rice and mint. She devoured the entire thing in minutes. My brother ordered a traditional, can't-go-wrong-dish: fish and chips. PS 214 added their own flavor to it by grilling the lemon served on the side and using Sriracha ketchup instead of normal ketchup. This is by all means the place to go if you want a unique spin on tradition­al food. While the food is a little heavy and very filling, the menu has enough options to make anyone happy.
Continue your school experience and learn the art of flavorful and truly different food.