Lamar Stuns Listeners with New Album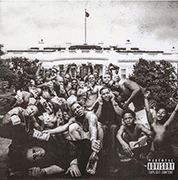 "To Pimp a Butterfly" is perhaps not the most charm­ing name for a rap album that addresses serious themes like racism and the negative con­sequences of having fame and money. I decided to give the al­bum a go, despite my unfamil­iarity with the hip-hop genre, after a friend recommended it to me. Besides, a fluttering, bright orange Monarch didn't seem to be the type of butterfly Lamar was referring to, so my curiosity was piqued.
The album's main track, "Wesley's Theory," is trippy and features Lamar rapping to a funky beat in the background- -which was a slight discord to the ear. However, it is evident that Lamar had carefully craft­ed the song's lyrics by drawing from his childhood experienc­es. The song includes several musical interludes with George Clinton and Dr. Dre, whose voices serve to add a new di­mension and layer of complex­ity to the track.
Lamar continues his magic with "Mortal Man," a smooth, dreamy piece of art that pays tribute to Tupac, the late rap­per and a personal inspiration to Lamar. Tupac's voice broad­casts loud and clear right in the middle of the 12-minute song and describes how blacks still face many of the same prob­lems that Tupac's ancestors had to overcome.
Going back to his roots in "Institutionalized," Lamar raps about returning to the neigh­borhood where he grew up. The overall feel of the song is psychedelic and a bit melan­cholic, with the combination of cool, glassy jazz and sad guitar notes, almost like something you would listen to after a bad break-up.
Lamar's fiery song, "The Blacker the Berry," greatly con­trasts with "Institutionalized," but addresses some of the same themes. It reads more like a rant than a lyrical song as Lamar almost manically and angrily raps about police brutality and racial stereotypes surrounding African-Americans.
"To Pimp a Butterfly" is structured as a series of sepa­rate and connected vignettes that aren't just your average rap songs. The album provides a platform for Lamar's social commentary, as well as a place for him to weave in parts of his own experiences growing up. At the same time, he uses ef­fects, detours and guest artists to keep the experience fresh and engaging for fans. After listening to the album, it's clear that Lamar, like a butterfly, has blossomed into a confident, bold young man who is un­afraid to voice his thoughts and opinions.
– Eshani Kishore