The Hockaday film program makes a comeback with its largest class since 2012
The Film Room is a hidden cubby hole in the Liza Lee Academic Research Center. Beyond study rooms and offices, the small Advanced Film class of eight quietly brings its vi­sions to life. In its essence, filmmaking at Hockaday is both solitary and col­laborative. While the entire class shares scripts and provides feed­back, the final voice of a film rep­resents the film­maker's vision.
Films bring us to tears, challenge us to think, push the limits of what we believe and take us to unimagi­nable places. Hockaday 's film program be­gan in 1972, using only a Super 8 mm camera and led by Fine Arts Depart­ment Lead Chair Ed Long.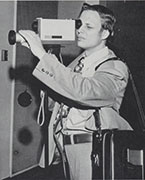 "At the time, film stood as a cru­cial 20th century media," Long said. "And at that time, an average high school student had read six books and seen 300 feature length mov­ies." Long stopped teaching film when the orchestra program at Hockaday began to grow, consum­ing his time, and the film class eventually died out.
Up until last year, Hockaday girls only had the option to take the Beginning Film class at St. Mark's School of Texas. Juniors Sadie Lidji, Lexie Chu, Whitney Middlekauff and Nathalie Naor were the last and largest group of Hockaday girls to have taken the class at St. Mark's during their freshman year.
But now, the film program has made a return with Upper School film teach­er Glenys Quick. "We're the new generation," Chu said.
Recognized
"It's impressive how far Hockaday film has come in just two years," Lidji said.
Lidji has been recognized by Dal­las International Film Festival twice for her films "Kiss the Boys and Let them Die" (2014) and "Something Not Unlike Myself" (2015). "Something Not Unlike Myself" was Lidji's sixth film. Dynamic and twisty, the film tells the story of an overworked, teenage ballerina who is pushing herself to her limits to be the best in her company. It focuses on the moment when her "ex-best friend" comes back and has a warning for her about dance and the events that transpire from that.
"[The film] was honestly in­spired by the portrayal of female friendship on screen, which is a really interesting dynamic that I don't think has been tapped into often," Lidji said. "I wanted to try to portray a complicated female friendship that broke down."
"Something Not Unlike My­self" focuses on the theme of per­fection, hammering out the dan­gers of pushing yourself too far, obsession and trying to be the best.
"It's a theme that everyone at Hockaday can relate to," Lidji ex­plained. "Hockaday has a culture of perfectionism and working un­til you almost–or do–break. Ev­eryone here knows the feeling of pushing yourself to the limit and the destruction it can cause."
Currently, Lidji has shifted her focus to one of her ongoing projects: a collection of "secret jour­nal entries" from girls around the world paired with music.
"It has taken me a year to get enough entries, which I collect through my YouTube channel," she said. Lidji will show the final cut soon at the gallery of alumna Tally Dunn '86.
Nathalie Naor is not currently in the Advanced Film class due to scheduling conflicts. However, she has produced several films this year, like the "City Lights" Winter Formal video and had her film "Curiosity" recognized by the Dallas International Film Festi­val this year.
The film only became a comedy after Nathanael War­ford, Naor's family friend and actor, who according to Naor is "one of the wittiest people I have ever met," began to improvise in sections of her script. "Curiosity" shows a teenage boy's quest to find his cat, recounting an un­fortunate situation in which the boy becomes the metaphor.
"Music really influences my films," Naor, a pianist, said. "The tone of the music sets what my film style and story will be." For "Curiosity," Naor chose two songs: Mr. & Mrs. Smith's "Death's Toll" and Johnny Rip­per's "Cat Soup."
A musician, Naor was not originally in the film program. However, she decided at the last minute to take the beginning class, after experiencing how film and music compliment each other.
"I was in Israel with my father and saw a Woody Al­len film called "To Rome With Love,"" she said. "I had always loved his films, but what re­ally struck me about this film was the amazing music from French composers that he paired the film with in order to create such an amazing work."
The Animators
Whitney Middlekauff has a distinctly whimsical style. Last year, she was recognized by Dal­las International Film Festival for "Rolling Alone," a charming story of a cotton ball who in­vestigates the deer statues that hang out by Hockaday's pond.
This year, Middlekauff returned to the pond for "The Great Puddle," detailing a duckling's triumph over his fear of water.
"It's the only place that you can really film at Hockaday without looking like you're at Hockaday," she said. Most of Middlekauff's films are short and utilize voice-overs.
However, Middlekauff and Chu teamed up to experiment with stop-motion animation in their film "Delivery."
"Delivery," a colorful and light-hearted story, explores the ocean and the sky. Chu and Middlekauff devoted an entire weekend to creating the props for each shot and retaking the scenes. Eventually, they had to tape a camera to the ceiling of Hockaday's Green Room, which is used for special effects, in or­der to capture their vision for the film.
Chu produces a high vol­ume of films. In addition to being the executive producer of The Fourcast's "Artscast," she has made films for the North Texas Food Bank and assisted most of the other Advanced Film students with their work.
"At first, I was interested in directing, but over time I realized that I was more in­terested in producing," she said. "I want to try new things, tell stories and show others how I see the world through film. It's truly amazing what you can do with film: create, discover, convey. It all started here at Hockaday film."
Future of the Film
Over half of the current film students plan on majoring in Film and Media Studies in col­lege. The others plan on minor­ing or keeping it as a lifelong hobby.
While Lidji told a compel­ling story about stress in "Some­thing Not Unlike Myself"—a "tenement of Hockaday cul­ture," she still wants to contin­ue to focus on the central issue of representation of women in the film industry. "Something Not Unlike Myself" had an all-female cast, a trend that Lidji would like to continue in all of her films.
Junior Anastasia Stewart just finished her first horror film, "Sleepy Reaper," which tells the story of Bo, a teen­age girl, who starts having re­petitive dreams in which her dead father kills her in differ­ent ways each time. Confused, scared and about to finally get to live her life, Bo tries to figure out what is going on before it is too late.
But now, Stewart wants to mainly focus on representa­tion of women in films.
"I want to focus my next project on women and their portrayal in films because it is such a huge problem," Stewart said. "I want to say something about how women should feel empowered to do anything."
Chu wants to make films that show women in a realistic light.
"My current drive for pur­suing film in the future is for Asian and female representa­tion within the film industry," she said. "It's really important that we have a voice, and film is a great way to broadcast and shape new ideas."
"I want to say something about how women should feel empowered to do anything," she said.
– Kate Clement