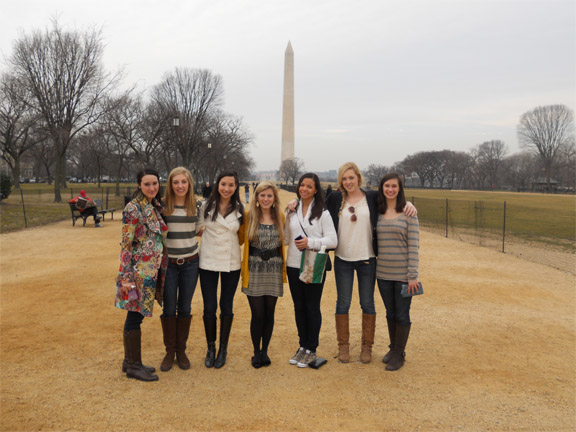 If you had stopped into Georgetown Cupcake (of TLC's "DC Cupcakes" fame) this February, you might have seen a group of Hockaday students enjoying the tasty treats. Far from taking a fun break from schoolwork, these girls were on a trip to the capital with Hockaday's Model United Nations club.
Model UN is a program that allows students to simulate discussions of world leaders in an academic setting and provides a way for students to gain insight into international relations that might not be easy to come by in a traditional classroom environment.
With faculty sponsor Tracy Walder's assistance, the club has vastly increased its activity in contrast to past years. The club had previously been a somewhat minor group, occasionally attending a local conference but lacking national involvement.
But this year, Walder added a national-level conference in Washington, DC, to the club's schedule.
"DC is the premiere conference you can go to," says Walder, and she hopes to keep it on the club's agenda for the 2011-2012 school year.
The trip provided students opportunities not only to simulate politics and world affairs but also to experience them firsthand. In DC, Hockaday students had a round table discussion with Congressman Pete Sessions, received a tour of the US Capitol and met with a Jamaican ambassador.
Although Hockaday's Model UN group was waitlisted for the conference at first, Walder was committed to ensuring that the girls could attend the conference and take from it as much of an educational gain as they were able. The club prepared for the month leading up the conference to represent the nation of Albania in simulated UN discussions.
"You get a country like Albania off the waitlist because it's hard, but the girls were still talking a ton," says Walder. "You might have close to 200 people in a committee, but they still found ways to talk."
The extent of members' involvement when attending conferences is also impressive: conferences are time-consuming, keeping students in committee from early morning to late at night.
Because Model UN conferences hold discussions both in a general assembly setting and in specific subcommittees, students have the opportunity to research the views of their nation on specific issues like environmental policy or human trafficking.
"Researching your country's issues is a great way to really inform yourself," says junior Jessie, a member of the club who attended the conference in DC.
Jessie and other club members are able to stay up to date with current events in the course of their research.
—Mollie