Café Momentum Reaches Out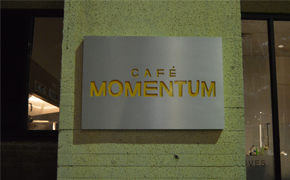 Located in the heart of downtown Dallas, Café Momentum offers sophisticated dining in an upscale environment. Dedicated to its goal of preventing teen recidivism, or the likelihood for someone to return to jail, the restaurant offers a paid internship for male juvenile offenders. Chad Houser, who spoke at an assembly in October, came up with the idea and developed the restaurant. Currently Executive Chef, Houser works with the Dallas County Juvenile Justice Department and teaches these teens job and life skills, training them in many various aspects of a restaurant, from waiting on tables to helping chefs prepare meals in the kitchen.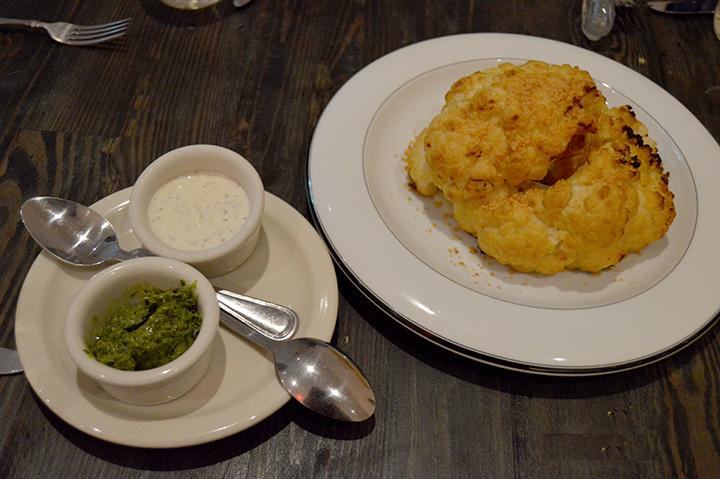 My family and I were seated in no longer than their requested waiting time. The front of the menu resembled a wooden clipboard and read, "Welcome to Our Classroom." Organized into firsts (appetizers), seconds (salads), thirds (entrees) and fourths (desserts), we gave our selections to the friendly waiter.
While the wait was rather lengthy, the food did not disappoint. For an appetizer for the table, we ordered a cauliflower head. Steamed to a golden brown, the dish came with salsa verde and a rather poignant yogurt sauce. While I could not exactly place my finger on what exactly the yogurt sauce ingredients were, it sure was delicious. The flavors of the powerful sauces and freshly prepared, crunchy cauliflower complemented each other well. This dish certainly made me want to eat my vegetables.
Next came the main course. I had ordered the short ribs in a creamy polenta sauce. The presentation of the dishes here should be commended. Garnished with coriander leaves, the ribs lay on a bed of mashed potatoes and gravy. Although I'm not a fan of meat, the short ribs were cooked thoroughly, with a little bit of red here and there to keep it juicy and flavorful. The polenta sauce, essentially boiled cornmeal, helped bring out the bold beefy flavor. Fried baby onions dotted the outside. The ribs were tender and moist, while the mashed potatoes were creamy.
My brother ordered their market fish. They offered salmon, with a side of coleslaw and parsnips. While he forbade me to eat any of his meal, he clearly enjoyed it.
Since it had gotten quite late, I refrained from ordering dessert: a decision I regret. Dessert options include s'mores, toasted coconut ice cream, a fruity variation on petit fours and fried pie. The s'mores looked especially appetizing, served with graham cracker crust and smoked marshmallow fluff.
They do not accept tips for the waiters. Rather, you are encouraged to make a donation.
On my way out, I could not help but notice the elegant wall decor, that supports the cause, encouraging these teens and the work they do. Notes of support and encouragement covered one sidewall. Next to the bathrooms, illustrations of a fork, knife and spoon stood up, contributing to the learning environment fostered at the restaurant.
The restaurant does an outstanding job of conveying this message to its guests. Plates with stories of some of the interns working there cover the back wall, while the back of the menu states: "Be Patient. Be Understanding. Be A Mentor."
Come with this sort of attitude in mind. When going to Cafe Momentum, it is important to remember that the people serving you are teens trying to start over. Be kind and be supportive.
Café Momentum
1510 Pacific Avenue
3.5/4 Stars
$$$
Open 5:30 p.m. -11 p.m.
Thursday-Saturday
Valet parking is complimentary.