Staff Standoff: Should People Eat Meat?
Mary Orsak: Pro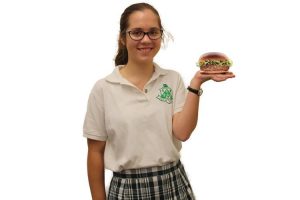 If you ever doubt that Americans love meat, take a second to evaluate the influence of the crown jewel of meat products: bacon. In a market driven by consumer demands, one can find thousands of bacon-related products ranging from bacon air freshener to bacon alarm clocks.
Meat is everywhere and in every form: it's chicken breast on your dinner plate, it's ground beef in the grocery store, it's even bacon lip gloss in Claire's and Toys "R" Us.
So, why be afraid of meat? Granted, there are religious and moral reasons not to eat animal products. However, setting those issues aside, meat has several health benefits, and meat has helped modern humans evolve into highly intellectual beings. Ultimately, meat is as American as "The Star-Spangled Banner."
According to the National Institutes of Health, meat is the best source of many vitamins and nutrients necessary for life such as iron, amino acids and vitamin B-12. Without those, your body would be deficient in oxygen-carrying red blood cells, you would not have the enzymes necessary to make new cells and your nervous system would decline in function. While you may be able to get some of these nutrients from non-meat products, there is no better – or tastier – single source for these vital elements of our diet.
We can also thank meat for our large intelligent brains, canine teeth and specialized digestive tracts. In her article "A Hypothesis to Explain the Role of Meat-Eating in Human Evolution," Katharine Milton, a dietary ecology professor at the University of California at Berkeley, said that during the million years of human evolution, meat has provided a high energy source to power our growing brains. Therefore, we can be grateful that meat has gifted us with the complex technology to take a picture of your delicious steak and share it with all your friends.
In addition to these health and evolutionary benefits, meat is a fundamental part of our culture. Celebrating, socializing and eating meat go hand in hand. Nearly every holiday is commemorated with an extravagant meal centered on tasty meat dishes. Even our beloved state fair celebrates Fletcher's corny dogs and turkey legs.
There are over 300 million Americans who eat meat, according to a 2012 Gallup poll. How many of these Americans do you think would give up their hot dogs at a baseball game, their fried chicken at family reunions or their turkey on Thanksgiving? I know I wouldn't.
Emily Fuller: Con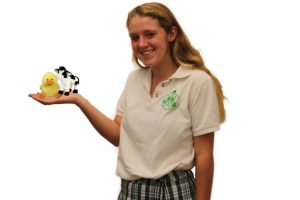 Producing 11.32 billion pounds a year, Texas has the second-highest rate of animal slaughter in the United States, behind only Nebraska. The mastered science of the factory farm is designed not to raise healthy livestock, but to maximize profits and quantity without regard for the millions of suffering animals.
From birth to slaughter, there is an exact timeline to get cows to "market weight" as quickly as possible. Because factories steal the baby calves milk from their mother's, the calves are pumped with steroids to gain hundreds of pounds in a year. However, in order to keep them alive long enough to butcher, they are constantly injected with antibiotics. So eating these medicated animals decreases the antibiotic's effect to us humans, when we take them from a prescription. Next time I have strep, I would like my medicine to work.
Along with not being able to heal our sicknesses, for the grand reward of one burger patty, factory farms use 6.7 pounds of grain, 52.8 gallons of water, 74.5 square feet for grazing and growing feed and enough energy to power a microwave for 18 minutes for drinking water and growing feed crops. While thousands of charities dedicate themselves to helping the 1 billion malnourished people in the world, half of the world's edible grain is given to cows for consumption.
Furthermore, we don't need meat to survive. Our bodies are designed so that we can get all our nutrition from plants. According to the non-profit animal advocacy organization, Free from Harm, though some people think that without meat protein, athletes cannot function, that is not the case. Between legumes, greens, nuts, seeds and soy, a vegetarian gets meals packed with protein, without all the feces and cholesterol from janky animal meat.
Although humans need at least 30 grams of protein a day, also known as one and a half servings of chicken parm, after 50 grams the bodies starts to store fat, so there is really no need to have a protein-filled feeding frenzy.
Meat is also gross. It's packed with feces, E. Coli, staph, listeria, blood and salmonella, making it the top source of food poisoning in the United States! Ew. Save a cow. Eat some vegetables.