Dresses may be the most difficult part of any dance. Does it fit? Is it the right color? Does one of my friends have the same dress? Should I order it online? Should I buy it in store? Does that color even look good on me?
Do not fret! Although there is no perfect equation to find the perfect dress, here are some of our favorite finds from Homecoming this past Saturday.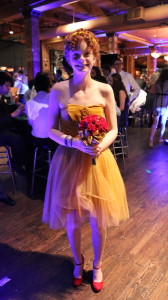 I spotted freshman Hallet Thalheimer's golden flower crown before actually seeing her dress. As I walked towards her blackjack table, her sparkly gold dress really caught my eye. The full tutu skirt falls from above the waist, allowing for a perfect fairytale type look. I asked her where it was from and she responded with a smile that she had gotten it from a vintage store in Austin. "It's from the 1950s!" Thalheimer said. Vintage stores are a great place to purchase one of a kind dresses at good prices. You never know what you may find!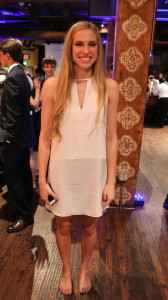 Sophomore Sophie Isom sports a shift dress from Parker. We love the triangle cutout in front. It is simple yet elegant. She says that she had it already and decided to wear it.
Sometimes dresses from other occassions can be perfect for a dance. Try recycling one from another party or occasion. It saves both time, energy and money. Plus, you only need to take a short trip to your closet!
Junior Sam Galardi wears a baby pink pleated skater dress by Lovers + Friends from Neiman Marcus. She borrowed it from a friend and loves the neckline of the dress. Before you embark on a dress hunting journey, you may want to see if a friend is willing to trade dresses with you.  We adore the pleats! There aren't too many to the point that it looks like a uniform skirt and not too few to just be an a-line. It's both cute and elegant.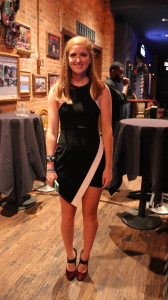 Our fearless Community Service Chair Allie Charlton decided on a body con dress for Homecoming from LF, a boutique in Uptown. Boutique stores are also a great place to find unique dresses.
"I really liked this dress because it was a little weird and different but also extremely comfortable!" Charlton said. We love the versatility of this dress. The white lining itself gives it a modern flair, and she can wear it to other events as well. The contrast between the black and white creates a nice balance between fun and functionality.
Also, love the shoes.
À La Daisy is a fashion column, written weekly by Perspectives Editor Sonya Xu, that covers the fashion of students and for students.