The Dawn of a New Digital Age
Flashback to the summer of 2011: junior Joy Nesbitt, then a rising seventh grader, sat in front of her 1.5 inch-thick Toshiba Portégé. After pressing the 'enter' button on her keyboard, Nesbitt had triumphantly set up her very first social media account: Google Buzz. Later on, Nesbitt created a Facebook account, unbeknownst to her parents.
"Everybody was on Google Buzz," Nesbitt said. "Then I secretly got the Facebook account because it was just the coolest thing to have."
Flash-forward to the present: Google Buzz is extinct; Facebook's reign as king of social media may soon be drawing to a close.
Other social media platforms, namely Instagram and Snapchat, have arrived at the forefront of today's digital networking. According to a spring 2015 survey conducted by Business Insider, 45 percent of teenagers in the U.S. favor Instagram or Snapchat as their favorite social media, while Facebook only claims the allegiance of 14 percent of U.S teens. This evolution of social media has even revealed visible divides between younger and older age groups.
This evolution, then, begs the question: Why is social media changing and evolving?
The short, surface-level answer is that with the birth of new social media platforms, some naturally enter the spotlight while others go out of fashion.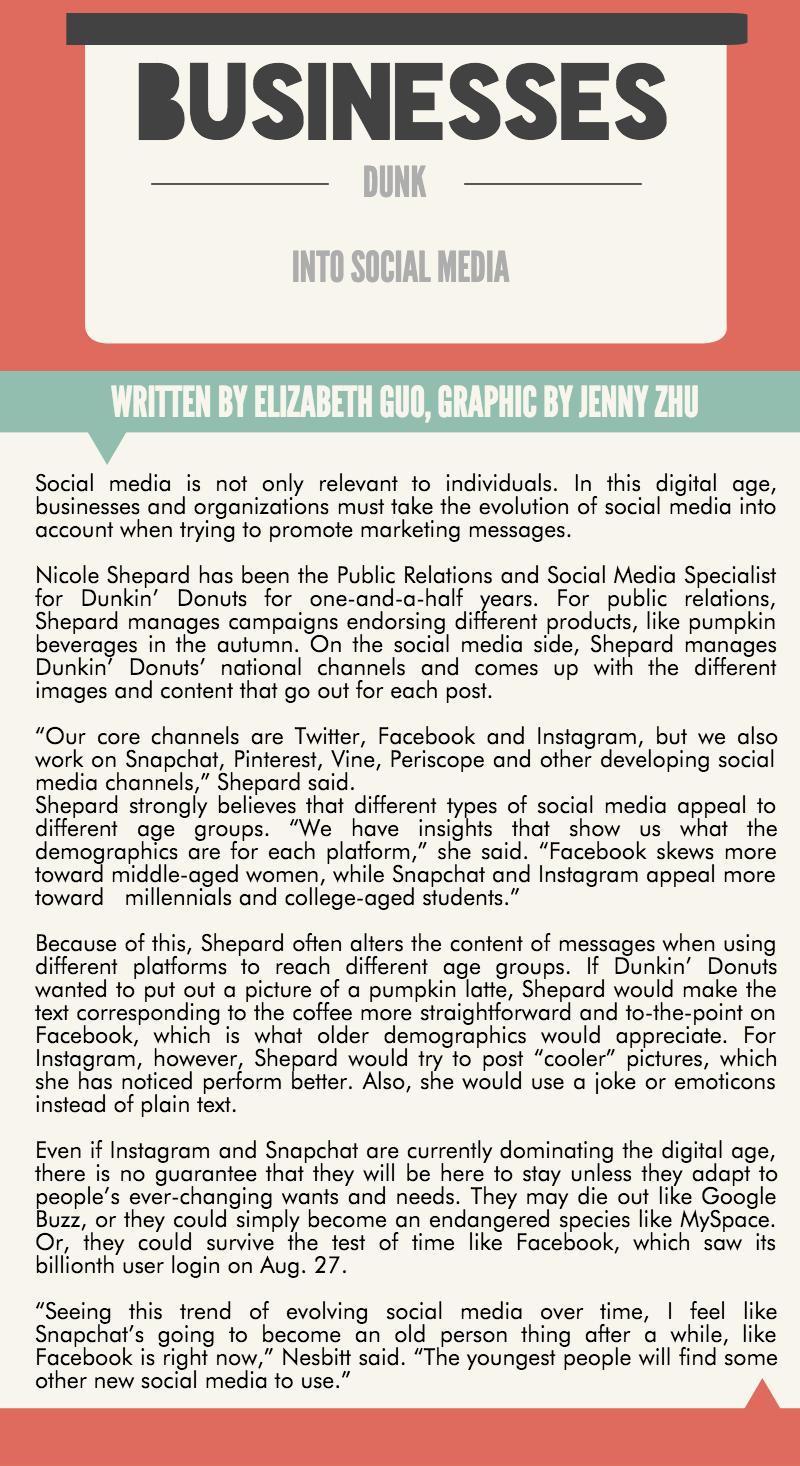 Upper School English teacher Jennifer Boulanger believes that social media preferences are primarily stratified by age group. Several social media platforms that were popular when she was younger, such as MySpace, have phased out. However, Facebook has continued to be one of the most popular platforms among her generation; according to Pew Research Center, 71 percent of online adults use Facebook. Boulanger believes that this is because Facebook came out at such an optimal time for her age group.
"The first social media account I got was Facebook in 2005, and it was just for college students at the time," Boulanger said. "Facebook was great for students because you were social networking before you went out to the job market."
With the advent of newer social media platforms, people begin to latch on to newer, trendier things. Freshman Maddie McBride, like the majority of her grade, does not have a Facebook account. She does have an Instagram and a Snapchat, which she believes are the two most widely used platforms in her grade.
"I got my Instagram in fifth grade, and it was the new thing that came out," McBride said. "When Facebook was big, I was too young to get it. Then, [my grade] was not exposed to Facebook when Instagram was big."
However, the longer, deeper answer to questions on social media's changes and evolution reflects on the types of connections younger people look for versus the connections that older people look for. According to Pew Research Center, teens are sharing more and more information about themselves on social media sites than they did in the past, leading to a bombardment of quick, easy-to-scroll-through information on a daily basis.
For senior Juliette Turner, who has Facebook, Instagram and Twitter accounts, the difference in mentalities between age groups shows that younger people are more interested in knowing what everybody else is doing, which is a specialty of Snapchat's story feature. On the other hand, older people are more interested in sharing milestone events, which is something that can be done through Facebook's timeline feature.
"Shorter, faster media is taking off," Turner said. "Tweets are short, Snapchats show up for a limited time, Vine is six seconds and Instagram is one photo."
This preference for faster-paced social media shows that younger generations are increasingly leaning towards unfiltered, informal communication. Nesbitt believes that one reason for Facebook's relative decline in popularity is its "fakeness" and affectation.
"For Facebook, you post pictures where you think you look cute or where your life looks really happy," Nesbitt said. "But for Snapchat, I send unflattering snaps of myself and we can all laugh about it. Social media is really changing to mimic live, face-to-face interactions."