Drill team kicks off season
Hanna Asmerom, Web Editor + Social Media Editor All
September 30, 2022
Five, six, seven, eight!" Senior drill team captain Ava Stern counts down the team to begin its routine. As the team
begins its fourth season, they adjust to some changes in the program.
One of the most significant is the new leadership structure. There are five captains: three seniors and two juniors.
This change was made with the goal of uniting the grades and providing the team with more people to choreograph dances. The new structure also allows the juniors to gain leadership experience before they have to fully lead the team.
"As a junior captain, I am really looking forward to being a bigger part of the drill team, when I thought I would have to wait to be a senior to do so," Aria Bhakti said.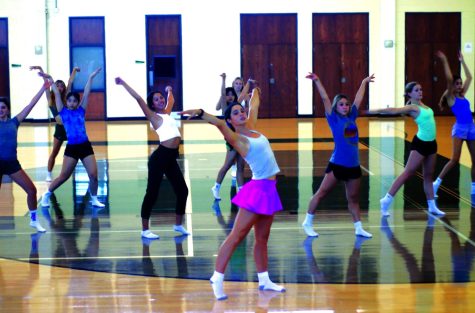 The team also will have more performances at full-school pep rallies. They will sport new outfits and dance to new music this year.
"I hope the changes help to support all Hockaday athletes," senior captain Maddy Grace Sporl said.
Despite the changes program, some things have remained the same. Tryouts began with a staff member from Preston Center Dance teaching the aspiring performers a routine, which they had to execute from memory shortly after. The dance instructor then picked about 30 members to join the team officially.
The team now holds practices every even day morning to learn routines choreographed by the captains. The captains also hope to diversify the performances throughout the year.
"We want to branch out of just jazz this year," Sporl said. "Maybe we'll try hip-hop or contemporary. All in all, we want to do all that we can to make Hockaday athletics a place of support and success."